2022 ELections
2022 Navajo Nation Election Timeline
Primary Election August 2, 2022
April 21 – Candidate Filing Begins for: Navajo Nation President, Navajo Nation Council Delegates, Navajo Board of Education, NBOES, Kayenta Township, Naschitti Commissoners
May 4 – Last day to file for candidacy
June 24 – Voter registration closes at 5:00 pm
July 4 – Absentee ballots become available & absentee voting on walk-in basis begins at NEA offices
July 18 – Mailed absentee ballot applications must be physically in NEA offices 
August 1 – CPJ Meeting at Agency Locations
August 2 – Primary Election Day (6:00 am – 7:00 pm) 
August 12 – Grievance pertaining to conduct of Primary Election. Campain expense statement filing deadline, voter registration re-opens at 5pm. 
August 12 – Certification of Election Results after this date 
Western Navajo Agency Election Office Location
Toll Free #: 1-888-508-4970
navajoelectionswest@navajo-nsn.gov
Navajo Nation Building 2775
Southeast of the Community Center
4 Trailers east of the Industrial Laundry
Tuba City, Arizona 86045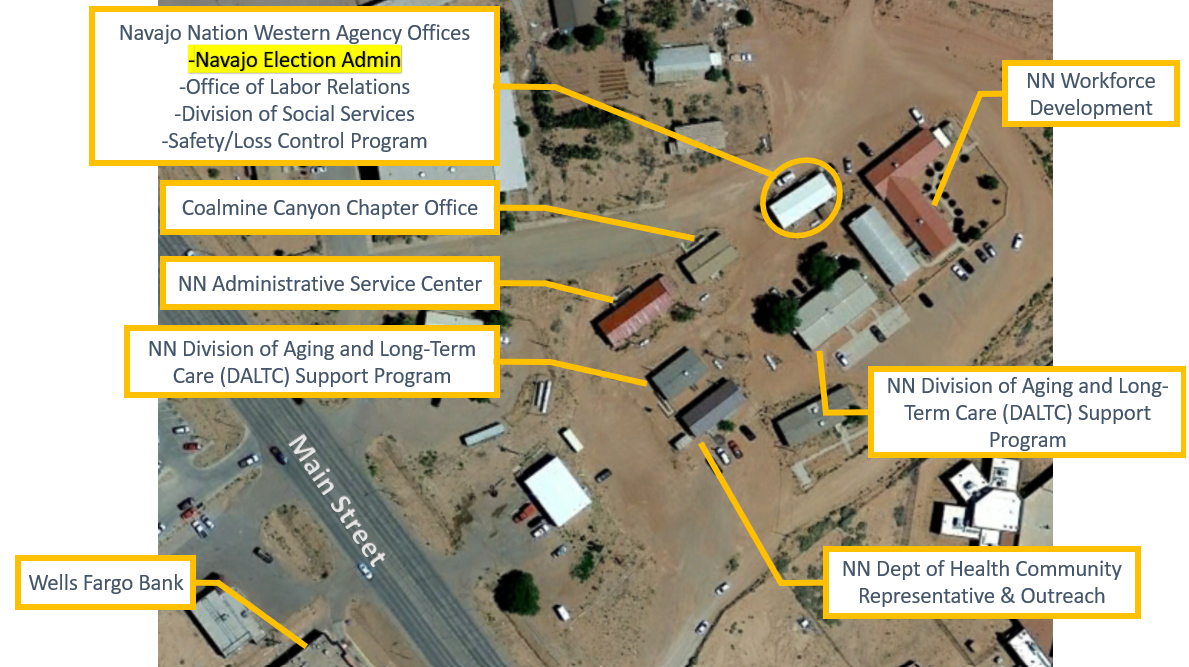 Mailing Address Office Location
Western Navajo Agency Election Office
P.O. Box 1596
Tuba City, Arizona 86045
Frequently Asked Questions
Source: Navajo Nation Election Administration (March 4, 2022)
What is the Recall Election Process
The Navajo Nation Election Code includes the process of recalling elected officials. Any official elected into office must complete a period of six months as an elected official before being subjected to recall preceedings. Recall preceedings can be initiated against any Navajo Nation elected official. More information regarding recall intitiatives can be obtained by contacting the Election Administration.
What is the Referendum Election Process
The Navajo Nation Election Code offers procedures for the referendum process. There are 3 types of referendum in the Navajo Nation Election Code. 1) Referendum measures may be referred to the people by the Navajo Nation Council where the Council determines by resolution that the people should decide the referendum measure. 2) Referendum measures may be referred by a Chapter Resolution to the registered voters of the Chapter within that Chapter Area. Such measure must affect that Chapter only. 3) Initiatives may be placed on a ballot by petition of the registered voters. Additional information on the Navajo Nation referendum/initiative process can be obtained at any one of the Election Offices.
What is the Candidate Filing Process
In order to become an elected official within the Navajo Nation government, qualified individuals must file for available offices at the Navajo Election Administration.
Where can I register to vote?
Voter registration for the Navajo Nation can be done at any one of the Navajo Election Administration offices. The Election Offices are located throughout the Navajo Nation at the Agency locations. The Navajo Nation voter registration can be done at most of the 110 Navajo Nation chapter houses during regular business hours. In order to qualify to vote in the Navajo Nation elections, an individual must be over the age of 18 years, have a Navajo census number issued by the Navajo Office of Vital Statistic.
When's the next election?
The next election is the 2012 Navajo Nation Chapter Election for the Chapter Officers, AFOG officials, Land Board members, Grazing Committee members, Farm Board members, School Board members, 5 Election Board members and Kayenta Township Commissioners.
Who are my chapter officers?
Records being updated. Contact Election Administration for individual Chapter History.
What chapter am I registered with?
To find out what chapter you are currently registered with, you can email navajoelections@navajo.org and request your voter registration status.
Where can I file for elective office?
During an election year, the Election Board approves elective offices that will be available during that particular election. Currently there are two election cycles for the Navajo Nation Election. You can check the Election Administration website to view the upcoming election calendar. Additional information can be found on the website as well.
What is required for filing for elective office?
Each elective offices within the Navajo Nation has its own set of qualifications. In order to find out the qualifications for a specific office, you can go to the "candidate qualifications" section of the homepage.
How do I initiate recall election proceedings?
First, no elected official can be recalled within the first 180 days of there term (6 months). After which a registered voter can come into one of the Election Administration for instructions, forms, requirements, etc.
How do I initiate referendum election proceedings?
There are 3 different types of referendum elections within the Navajo Nation. The Navajo Nation Council enacted referendum must be done by the Navajo Nation Council. The second type is a chapter referendum which can be initiated by a chapter or a number of chapters, but the initiative must cover those chapters only. The third type is an intiative type that can be initiated by any individual(s) to be placed on a special election ballot. Unless the referendum or initiative is included in a major election, the sponsor or initiator must provide some funds towards the payment for the special election.
Navajo Nation election Deadlines
May 4 – Last day to file for candidacy for NN elections. 
July 18 – Absentee ballots must be in NEA offices 
August 2 – NN Primary Election Day 
What To Bring With You to Register to Vote 
– Photo ID (Driver's license or state issued ID Card) 
– Social Security Card
– Certificate of Indian Blood (CIB)
Original documents preferred. 
What To Expect When You Arrive
The administration building that the Navajo Election Office is located in is open to the public. You will need to call a number when you arrive so an office specialist will let you in. Make sure to have a cell phone or call ahead and make an appointment at 1-888-508-4970